Bidding Ends
Thursday, December 2, 2021 12:00pm (noon)
Private Phone Auction - Meade County Ranch -
1489 Native Grass Surface Only 181 CRP
RANCH LOCATION:
From Englewood, KS. 9 ½ miles west on EE Rd., 1 mile North
from Meade, KS, 16 miles South,10 miles East 28&DD Rd. (signs)
Private Phone Auction
"MEADE COUNTY RANCH"
1489 NATIVE GRASS SURFACE ONLY 181 CRP
All bids must be submitted by telephone.
(620) 563-7283 or (620) 629-1100
Tract #1: S / 2, S / 2 NE / 4, 22 sec, NW / 4 NW / 4, E / 2 NE / 4, E / 2 NW / 4, w/ 2 NE / 4, SW / 4 NW / 4, w/ 2 SW / 4 sec 27 S / 2, NE / 4, S / 2 NW / 4, sec 28 SE / 4, E / 2 SW / 4, NW / 4 SW / 4-sec 29 all in 34-26 Meade Co. KS 1670 acres
CRP Contract expires 9-30-2022
Annual Payment $7,083.00
FENCE: 5 Wire Perimeter (good) Water Source- 2 Windmills, solar well, 2 ponds, submersible well with underground lines to various locations. Pens and Corrals- need repairs
This property provides excellent habitat cover for wild life. Perfect terrain for deer hunting; Trophy deer observed.
Terms: $100,000.00 of purchase price paid day of sale (earnest payment). Balance due upon acceptance of title (20 days) and delivery of deed.
Taxes: 2021 and prior years paid by Seller. 2022 and subsequent years paid by Buyer. $795.38
Title: Title insurance policy furnished. Cost shared 50 / 50. Escrow fee shared 50 / 50.
Possession: Upon payment in full and on Jan. 1, 2022. Close on or before Dec. 30, 2021
SELLER: Mark Roesch
To view the ranch contact: Gunner Cordes
(620) 253-2476
All bidding parties will remain confidential.
Buyers must bid prior to 12:00 (noon), Thursday, December 2, 2021 to be included in the bidding pool.
After bidding deadline, active bidders will be allowed to advance their bids. Bids will be accepted until no further advances are made. Minimum bid is Tr. #1: $10.00 per acre.
All bids must be submitted by telephone. (620) 563-7283 or (620) 629-1100
Sale is subject to Sellers approval.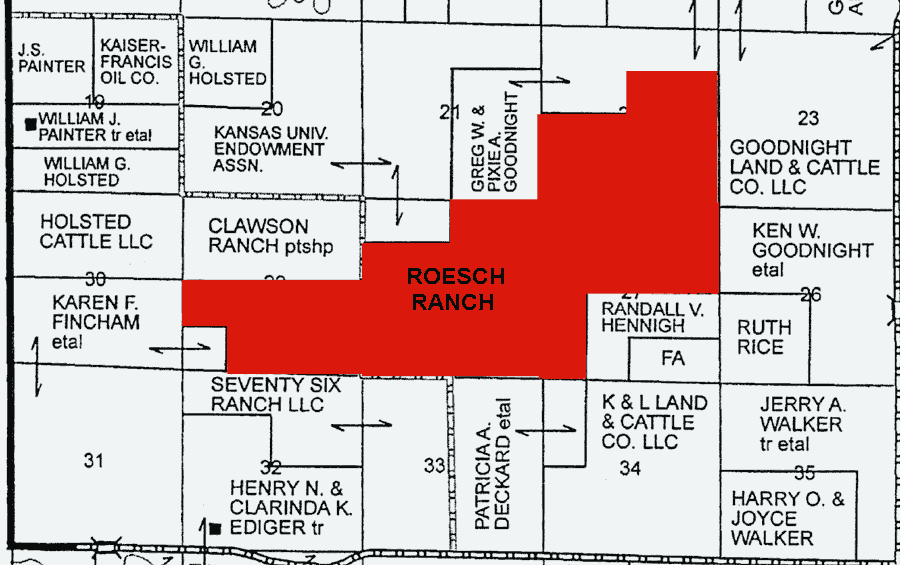 AUCTIONEER:
JIM HUSH
PO Box 458 • Plains, KS 67869
(620) 563-7283
www.kansasauction.net / hush /
ATTORNEY
Terry Cordes Meade, KS
Announcements day of sale take precedence over prior advertising.